Parenthèse et le Retour en Boheme (2002)
mis à jour le 25 01 2000
Rédigé par Eva Houdova
FR// 1985, des patineurs virevoltent dans un centre sportif bruxellois. Quelques-uns se lancent, tout sourire, vers la caméra. Ils s'appellent Lida, Jiri, Martin, Eva, Jan... Leur point commun: ils ont quitté pour l'Ouest leur patrie, la Tchécoslovaquie, en 1968, dans la confusion qui a suivi l'invasion du pays par les troupes soviétiques.
Aujourd'hui, la réalisatrice prend la caméra et filme "La Parenthèse et le Retour en Bohême" où elle donne rendez-vous à l'ex-Est à ses compagnons d'émigration.
Le récit de ces retrouvailles est le sujet de ce "Retour...". Le film pose une double question: comment ceux qui sont partis ont-ils trouvé la force pour vivre en exil et comment ceux qui sont restés sous l'oppression d'un régime totalitaire ont-ils survécu? Mais, tous désirent retrouver leur "être tchèque" en même temps que leur pays comme on referme la parenthèse, une fois pour toutes.
Après quoi, l'Histoire reprend son cours...
EN// The parenthesis and the journey back to Bohemia (2002)
One winter day in Brussels in 1985 several of us Czech friends got together. We were bound by the 1968 exile which seemed endless. There weren Ludmila, Martin, Jan, Jiri and me. Five years later, the Velvet Revolution took place in Prague. Each of us went back. we felt something strange there: nothing has changed, we thought.Yet everything has changed, we thought too! Ten years later, I asked my friends to follow them on other trips to Bohemia and Moravia.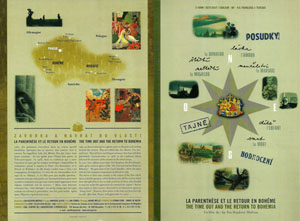 : Rimvydas Leipus
Jan Storek
Ariane Mellet
Cobra Films, RTBF et CBA avec l'aide du Centre du Cinéma et de l'Audiovisuel de la Communauté française de Belgique et des télédistributeurs wallons

Rimvydas Leipus
Jan Storek
Ariane Mellet
A co-production of the RTBF,The Centre for Cinema of the Belgian French language communityand the Brussels Audio-visual Centre(CBA)
Benjamin Viré
Catherine Montondo


CBA - Avenue des Arts, 19F – 1000 Bruxelles
Tél +32 2 227 22 30 – F +32 2 227 22 39 cba@skynet.be


Rue de la Sablonnière, 29 - 1000 Bruxelles
Tél 02 512 70 07 - Fax 02 511 38 28
cobrafilms@skynet.be